At the end of last year, we received an interesting inquiry from Mitteldeutscher Rundfunk (MDR): The editors were interested in our technology of retinal vessel analysis. They would like to include it in a report in the Thüringen Journal to illustrate Jena as an innovative business location. Several exciting days of preparation followed. On the day of filming itself, three MDR employees visited our company.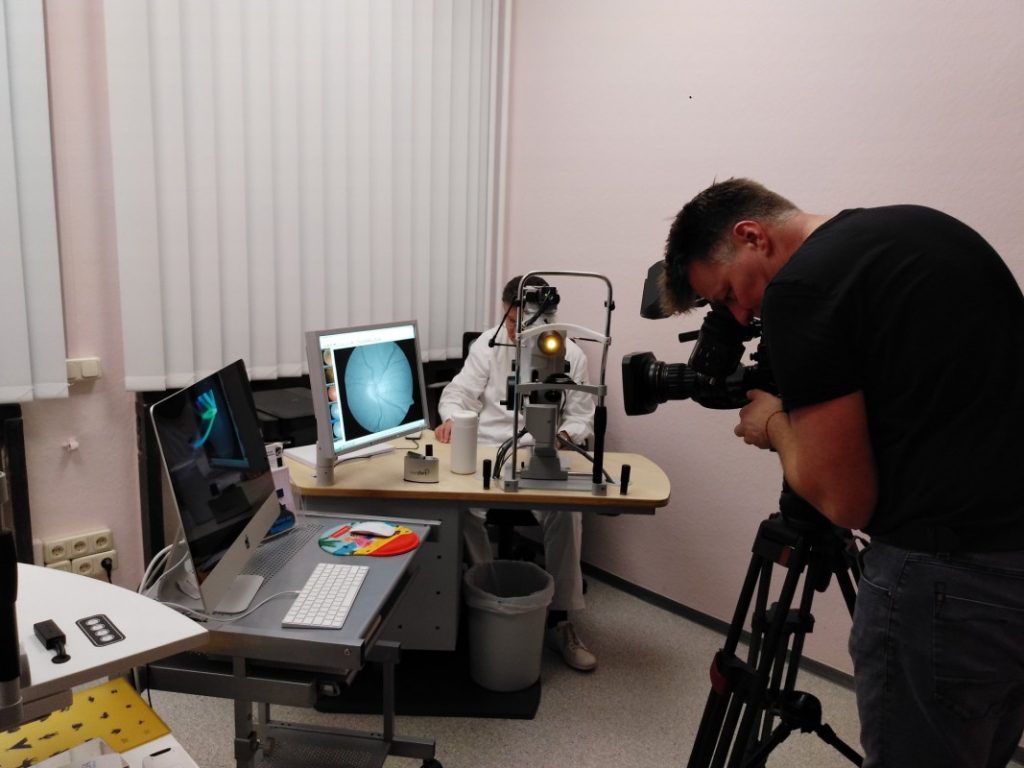 The filming started in the ophthalmology practice of Dr. Matthias Jütte. He has been using our static vessel analysis technology in his practice for quite some time. The method makes it possible to analyze the back of the eyes of his patients. All blood vessels running here can be seen as a mirror of the large vessels and organs in the human body. Constrictions or dilated areas of these finest vessels provide information about the state of health of the heart, for example. Dr. Jütte described his experiences in everyday practice. Later, he performed a live examination on a patient.
The shoot then continued at the Imedos headquarters in Jena. Here, the technology and the procedure for Dynamic Vascular Analysis were demonstrated. In this process, tiny vessels in the retina of the eyes are stimulated with flickering light. This can be seen in the article as green, flickering light. Based on the reactions of the vessels, important conclusions can be drawn about the current vascular condition and the vascular health of the patients.
"We appreciate the keen interest from the media and the opportunity to present our technology in more detail," commented our CEO Dr. Walthard Vilser on MDR's visit "Our goal is to improve and protect the vascular health of patients around the world. Everyone carries cardio-vascular risk from birth. This means that there is a possibility for everyone to suffer from cardiovascular disease. This includes, for example, heart attacks or strokes. It is central for us to make more people aware of the important issue of these cardiovascular diseases. With the Dynamic Vessel Analyzer (DVA 3.0), we can detect and assess risk factors that precede these diseases in a completely non-contact and painless way. Affected people can thus counteract diseases at an early stage or start targeted therapies," says Dr. Vilser.
Company spokeswoman Christina Bayer was also enthusiastic about MDR's approval: "As a Thuringian company, we have strong ties to the region. At the same time, we are increasingly orienting our company internationally. We see the coverage on MDR Thüringen Journal as a successful start for the new appearance of the Imedos brand."