The University Hospital Jena (UKJ) and the Jena-based manufacturer of medical devices Imedos Systems GmbH have joint forces to determine whether the functional analysis of vessels in the retina allows statements on the course of COVID-19 diseases.
Doctors know that COVID-19 is not only a serious disease of the respiratory organs, but also affects the inner vascular walls throughout the body. As a result, blood clotting is disrupted and the risk of a pulmonary embolism or stroke increases rapidly. »Despite all the advances in the handling of COVID-19, we do not yet have a specific therapy or approved vaccine. Therefore, we are looking for clues that can show us a severe course at an early stage, especially with the increasing number of infections,« explains Dr. Daniel Vilser, Senior Physician in the Department of Pediatrics and Adolescent Medicine at the UKJ. »The functional analysis of retinal vessels, which can be accessed easily, is an established method that could give us valuable information about the onset of vascular function disorders.«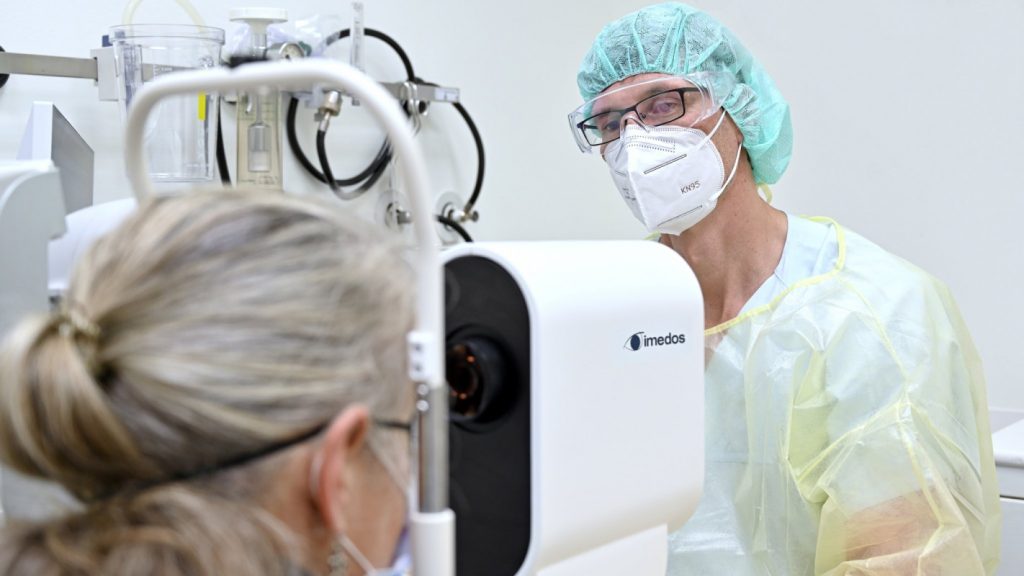 Contactless view into the eye
The pediatric cardiologist is leading a clinical trial of COVID-19 patients who are currently cared for in the UKJ. These patients are examined by means of retinal vessel analysis, a special technology developed by Imedos Systems GmbH that enables a detailed analysis of the function and regulation of retinal vessels, in particular their inner sides, the so-called endothelium. This inner cell layer in the vessels is significantly involved in the regulation of blood circulation, clotting and inflammatory processes. The innovative Imedos technology offers a unique and non-invasive approach to analyse the microcirculation of patients with the help of flicker light.
»We assume that the results of the measurements of the endothelium of retinal vessels can be transmitted to the entire body, so we get a detailed finding for the endothelial function of the COVID-19 patients,« says Daniel Vilser. In the study, the scientists want to determine whether retinal endothelial function is impaired in COVID-19. Of particular interest is whether a connection between the parameters of static and dynamic retinal vessel analysis and the severity of the course of the disease can be detected. »This would provide an opportunity to identify high risk patients who need intensive medical care at a very early stage and adapt their treatment accordingly,« emphasizes Daniel Vilser. So far, about 30 COVID-19 patients have taken part in the study. In the majority of them, the physicians found a disorder of endothelial function.
---
University Hospital Jena (UKJ)
The University Hospital Jena (UKJ) is the only university medicine in Thuringia and with more than 5,600 employees the largest employer in the region. At the Medical Faculty of the Friedrich Schiller University, 2,600 medical, dentistry and master's students are trained, and scientists from more than 50 nations are researching the further development of medicine. Hereby, the main focus is on sepsis and infection research, aging and age-associated diseases as well as medical optics and photonics. The UKJ's clinics provide inpatient and outpatient care for more than 300,000 patients every year. www.uniklinikum-jena.de
Contact/​More information:
Dr. Daniel Vilser, Senior Physician at the Department of Pediatrics and Adolescent Medicine at University Hospital Jena
University Hospital Jena (UKJ)
Phone: 03641 9329540
Email: daniel.vilser@med.uni-jena.de